---

Casino Beacon > Casino Games > Microgaming Casinos and Games
Microgaming Casinos and Games
Based in the Isle of Man, Microgaming is one of - if not the - best known of all online casino game developers. The company claims to have created the very first internet-based casino games (for Gaming Club) in 1994, although this claim is disputed by at least one other online casino. For the majority of its history, Microgaming solely produced casino games in-house but in recent years has branched out to include hundreds of titles from independent third-party developers, further enhancing its already enormous database of hundreds of games. Regardless of if Microgaming's claim to have been the first online casino provider is correct or not, the company can certainly boast of having the biggest progressive jackpots available with many of them reaching several millions (in the player's own currency) and these jackpots are frequently won and paid out in one lump sum by the best participating casinos.
Game Providers - Game Provider/Designer Home - Ainsworth - Alchemy Gaming - Betsoft - Microgaming - NetEnt - Pragmatic Play - Realtime Gaming - Rival - Triple Edge - WGS Technology
---
Recommended Microgaming Casinos

Cosmo
Excluded countries: Afghanistan, Angola, Armenia, Australia, Azerbaijan, Belgium, Benin, Bhutan, Botswana, Burkina Faso, Burundi, Cambodia, Cape Verde, Central African Republic, Chad, China, Christmas Island, Cocos Island, Comoros, Congo, Cyprus, Denmark, Dominica, East Timor, Equatorial Guinea, Eritrea, Ethiopia, France, Guinea-Bissau, Guinea, Haiti, Hong Kong, Hungary, Iran, Iraq, Italy, Ivory Coast, Kenya, Kiribati, Kyrgyzstan, Lao People's Republic, Liberia, Libya, Malawi, Maldives, Mauritania, Mongolia, Mayotte, Mozambique, Myanmar, Nauru, Netherlands, Niger, Nigeria, Niue, North Korea, Norway, Pakistan, Palau, Paraguay, Philippines, Pitcairn, Poland, Portugal, Romania, Rwanda, Sierra Leone, Singapore, Slovakia, Somalia, South Africa, Spain, Sudan, Sweden, Switzerland, Syrian Arab Republic, Taiwan, Tajikistan, Tanzania, Uganda, USA, Taiwan, Vietnam, Western Sahara, Yemen, Zaire, Zimbabwe
PLAY/JOIN - COSMO - T&C

Gday
Excluded countries: Afghanistan, Albania, Algeria, Angola, Australia, Bahamas, Belgium, Bolivia, Botswana, Bulgaria, Cambodia, Cuba, Denmark, Ecuador, Estonia, Ethiopia, France, Ghana, Guam, Hungary, Indonesia, Iran, Iraq, Israel, Italy, Kenya, Latvia, Lithuania, Martinique, Myanmar, Nigeria, North Korea, Pakistan, Palestine, Poland, Portugal, Romania, Russia, Serbia, Singapore, Slovakia, Slovenia, South Africa, Spain, Sri Lanka, Sudan, Syria, Tanzania, Thailand, Trinidad and Tobago, Tunisia, Turkey, Uganda, USA, Vietnam, Yemen, Zimbabwe + more (see T&C for full list)
PLAY/JOIN - GDAY - T&C

Jackpot City
Excluded countries: Afghanistan, American Samoa, Andorra, Antarctica, Australia, Austria, Belgium, Bulgaria, China, Christmas Island, Cocos (Keeling) Islands, Czech Republic, Denmark, East Timor, France, French Guiana/Metropolitan/Polynesia/Southern Territories, Guadeloupe, Guam, Heard and McDonald Islands, Hong Kong, Hungary, Iran, Israel, Martinique, Mayotte, Micronesia, Myanmar, New Caledonia, Norfolk Island, North Korea, Philippines, Poland, Portugal, Puerto Rico, Reunion, Romania, Rwanda, St Barthelemy, St Martin, Serbia and Montenegro, Singapore, Slovenia, Somalia, South Africa, Spain, St Helena, St Pierre and Miquelon, Switzerland, Syria, Taiwan, Turkey, UK, USA, Vatican City, Virgin Islands (British and US), Wallis and Futuna Islands
PLAY/JOIN - JACKPOT CITY - T&C

Luxury
Excluded countries: Angola, Armenia, Australia, Azerbaijan, Belgium, Bhutan, Botswana, Burkina Faso, Burundi, Cape Verde, Central African Republic, Chad, Christmas Island, Cocos Island, Comoros, Congo, Cyprus, Denmark, Dominica, East Timor, Equatorial Guinea, Eritrea, Ethiopia, France, Germany, Ghana, Guinea-Bissau, Guinea, Hong Kong, Hungary, Iran, Iraq, Ireland, Italy, Ivory Coast, Kiribati, Kyrgyzstan, Libya, Malawi, Maldives, Malta, Mauritania, Mayotte, Nauru, Netherlands, Niger, Niue, North Korea, Norway, Pakistan, Palau, Philippines, Pitcairn, Poland, Portugal, Romania, Rwanda, Singapore, Somalia, South Africa, Spain, Sudan, Sweden, Switzerland, Syrian Arab Republic, Tajikistan, Taiwan, Uganda, USA, Western Sahara, Zaire
PLAY/JOIN - LUXURY - T&C
CasinoLuck
Excluded countries: Albania, Algeria, Angola, Argentina, Armenia, Australia, Benin, Bolivia, Cambodia, China, Colombia, Costa Rica, Curacao, Cyprus, Czech Republic, Estonia, Ethiopia, France, Gabon, Gambia, Gibraltar, Greece, Grenada, Guadeloupe, Guam, Iran, Iraq, Israel, Jordan, Kenya, Laos, Latvia, Madagascar, Malawi, Malaysia, Malta, Moldova, Montenegro, Morocco, Mozambique, Namibia, Nigeria, North Korea, Pakistan, Paraguay, Philippines, Poland, Puerto Rico, Romania, Rwanda, Senegal, Serbia, Sierra Leone, Slovakia, Somalia, Spain, Sri Lanka, Sudan, Swaziland, Switzerland, Syria, Tanzania, Thailand, Togo, Tunisia, Turkey, Uganda, Ukraine, USA, Yemen, Zambia, Zimbabwe + more (see T&C for full list)
PLAY/JOIN - CASINOLUCK - T&C

WinningRoom
Excluded countries: Afghanistan, Australia, Bangladesh, Barbados, Belarus, Belgium, Bosnia and Herzegovina, Burma, Colombia, Cote D'Ivoire (Ivory Coast), Cuba, Cyprus, Democratic Republic of Congo, Fiji, Hong Kong, Iran, Iraq, Japan, Liberia, Libya, North Korea, Pakistan, Qatar, Russia, Saudi Arabia, Senegal, Serbia, Seychelles, Sierra Leone, Singapore, Slovakia, Somalia, South Africa, Spain, Sudan, Syria, Ukraine, USA, Zimbabwe + more (see T&C for full list)
PLAY/JOIN - WINNINGROOM - T&C
---
Aces and Faces is a good next step if you've only played 10's/Jacks or Better video poker. This game is standard video poker (no wild cards) but with higher payouts for 'four of a kind', if they're 'aces or faces' - jacks, queens, kings or aces. These extra payouts are paid for with reduced wins for a full house or flush.
Playable stakes will suit all budgets, ranging from 0.25 to 25.00 (in your played currency) per hand. Wins can be gambled in a 'double or nothing' feature which can be repeated multiple times, potentially converting small wins into hundreds or thousands of pounds, dollars, euros, etc.
Play Aces and Faces -
All American Poker is a 'jacks or better' video poker game, faithful to the basic version except for a few payout twists. All American Poker pays extra for a straight flush, four of a kind, flush or straight. To compensate, a full house or two pair will pay less. Payouts are unchanged for a royal flush, three of a kind or jacks or better.
An optional autoplay feature will hold your best cards. After every win you'll have the chance to double the amount by beating the dealer in a bonus game (highest card wins).
Play All American -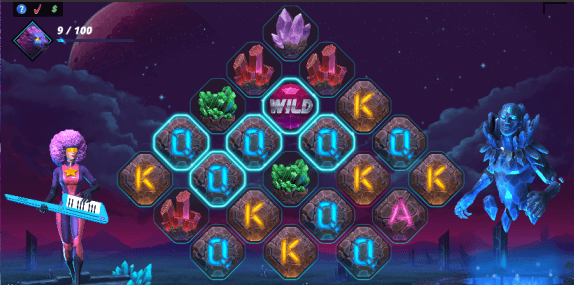 Astro Legends - Lyra and Erion is a good game to try for online casino players looking for something with a twist. Astro Legends - Lyra and Erion is a slot designed by Estonian developer Foxium for Microgaming casinos and attracted plenty of publicity and high expectations on its release in November 2018. Foxium has described Astro Legends as 'groundbreaking and a new breed of game with a strong storyline and fantastic gameplay' - bold claims, indeed. Regardless of the promotional fluff, there's definitely something new and different to discover playing Astro Legends - Lyra and Erion with its 'real-time 3D rendering', apparently a 'first ever' for online casino games.
Astro Legends breaks from the ubiquitous 5x3 reel layout and has a hexagon shaped diamond playing area, resulting in 22 independent reels with cluster pays for enhanced payouts. The background soundtrack will adapt to your game's action and add to the immersive atmosphere. With an RTP (Return-to-Player) of 96.63%, the variance is described by Foxium as medium-to-high and allows stakes per spin from 0.10 to 100.00 in your played currency. The maximum possible win is x15,000 your stake.
Play Astro Legends - Lyra and Erion -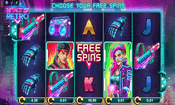 Attack On Retro from Microgaming and Triple Edge Studios is set in 2187, right at the time when 'Retro City' is under attack by Alien Robots! Retro City is the place all 80's fans will love to be, if there wasn't so many Alien Robots attacking the City. On the other hand, this is a good thing and in any event, our heroes, Billy and Jesse are around the keep the great city safe.
The slots tag line 'Retro Spins with Futurist Wins' is lived up to - Triple Edge Studios has hit the retro nail on the head (the music being a hit for us) and the gameplay, if not all out 'futuristic', is at least entertaining. Attack on Retro has just 10 win lines and is your common five reel, three row slot with some interesting features including stacked wilds. The Random Wilds feature where robot scarabs (two of these little fellas always lurk at the edges) 'attack' the reels within the base game is something to hope for on a regular basis and the bonus free spins are also impressive.
When you first see Attack on Retro's loading screen, you might think, as we did, what's this crap offer of 2 spins x 5?? This is one of the options available when you spin in 3 or more scatter free spins symbols that initiate the free spins bonus game. The others are 5 spins x 2 and 10 spins x 1. However the 2 x 5 is not all that bad, like any decent free spins bonus the spins are not simply 'regular spins'. During Attack on Retro's free spins, reels one and five are locked stacked wilds of either Jesse or Billy. Also, two scatters will trigger another five free spins and three will trigger an additional 10 free spins. Quite impressive.
If all that's not enough, Attack on Retro also features 'Hyperspins', which is a reel re-spin feature, giving you chance to spin in the missing symbol which will make up a winning line. The price of the re-spin depends on the value of the potential winning combo. It's particularly handy if you've spun in two free spins scatters and you're happy to spend money re-spinning to trigger the free spins bonus.
Play Attack On Retro -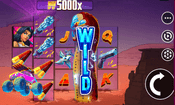 Aurora Beast Hunter invites players to take part in a '90's-style' adventure featuring Aurora, the heroine of the story. Described by the designers as a high-octane quest, Aurora is out to vanquish 'voracious beasts' in this energetic slot game from Microgaming, designed by the prolific independent gaming studio Just For The Win.
Released on 23 June 2020, Aurora Beast Hunter is a high variance slot with an RTP of 96.27% and 40 different win-lines on every spin. You can win as much as x4000 your stake plus there are plenty of other ways to hit big wins as you play this slot. Bonus features includes random cash prizes, four different types of 'wild' symbols to increase your win-lines and three different free spins bonus rounds to discover. The action is helped along with a 'rocking soundtrack and screaming guitars'.
Aurora Beast Hunter is another game that's typical of designers Just For The Win in that it breaks from the slot-norm layout by presenting the player with a 3-4-3-4-3 grid layout (see screenshot). Aurora Beast Hunter is a very bonus-rich game with multiple features in addition to those we've already described. Expect to come across sticky wilds, expanding symbols, respins, stacked symbols and a lot more to keep the game entertaining and the pace exciting. It's a bright, eye-popping game that immediately draws you in with plenty of action potential from your first spin.
Play Aurora Beast Hunter -
Baccarat is a standard baccarat game by Microgaming is simple and clearly displayed. It's ideal for beginners to the game, played with one standard deck of 52 playing cards, shuffled before each game.
You can bet on yourself or the banker, predicting who will make 9 first - or bet on a tie. 'Banker' and 'Player' bet wins will pay 1:1 (banker bets are paid 5% less). A winning tie bet pays 8:1.
Play Baccarat -
Battle Mania was developed by the designers at Skillz Gaming in 2018 for Microgaming casinos and is most definitely NOT a slot or table game and so probably falls into the 'casual game' category. In fact, it's probably not like anything you've ever played before at an online casino. Battle Mania is a RPG-style (Role Playing Game) where teams of fighting heroes, each with their own skills, battle it out for victory - the winner being awarded a cash prize.
Battle Mania features different teams to choose from. The action can place on different magical islands and new game features are unlocked as your adventure progresses, also awarding players with bonuses for success. For something definitely different, head to a participating Microgaming casino and load up Battle Mania. It's refreshing to see Microgaming's collection boosted with a real new idea and theme.
Unfortunately, it can be a bit of a trek to locate this game at some Microgaming casinos so you might need to try booting up a few different Microgaming-powered casinos before actually finding this gem of a game but it's definitely worth putting in the work to track it down.
Play Battle Mania -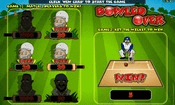 Bowled Over is a cricket-themed scratch card game by Microgaming. Each card has two games. Game 1 is a simple 'match 3 symbols/cricketers' to win. Game 2 has you bowling a cricket ball - hit the wicket to win a cash prize.
Bowled over is a simple scratch card, quite fun to play manually or you can click 'reveal all' to auto-play a card. Card prices start at just 0.50 and go up to 10.00 in your played currency. The maximum prize is 10,000.
Play Bowled Over -
Dream Date is a rarity in the online casino scene in that it's a game primarily focused and designed for female players, although there's nothing stopping guys taking part! Dream Date is a medium-variance, five reel slot with 243 ways to win on every spin. Stakes range from a comfortable 0.15 up to 60.00 per spin so you won't need to break the bank to give it a whirl. Dream Date's RTP is 96.45%.
As the game's name suggests, Dream Date is a romantic slot. It has 'dolled up' women looking for love and lots of different male characters, some of whom like to show of their chests! You can choose for your game to be set in an historical or modern era with a different lady and different men in each era. You get to select one of four guys to be your 'Dream Date' who will then become the highest paying symbol.
The main feature of this game occurs when the lady and any date land in a 'Hotzone' (centre of reels one and five) - you'll be awarded an instant prize of up to x40 your bet. If your selected 'Dream Date' lands, you'll also trigger the free spins bonus. During the free spins bonus your chosen dream date replaces all the other dates. Free spins can also be triggered by spinning in three or more scatter symbols. During the base game a wild on reel three expands vertically and during free spins it also pays x2.
Play Dream Date -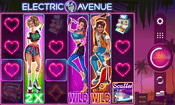 Electric Avenue is a worthy addition to All41's growing collection of games since striking its exclusive deal with Microgaming in 2019 with the aim to "Entertain, Innovate and Deliver". Released on 12 May 2020, Electric Avenue is an innovative 80's-styled high variance slot with six reels and four rows. The high volatility should mean big wins when luck strikes and the RTP of 96.23% will back that up.
There is no shortage of potential wins on every spin with a massive 4096 different ways to win on every spin. Whilst sounds and music from the 1980's entertain you, keep an eye out for wild symbols which will create additional win-lines and boost your balance. In addition, win-multiplying 'Wild Reels' will randomly appear on reels two, three, four and five with each paying a different win multiplier - x2 on reel two, x3 on reel three, x4 on reel four and x5 on reel five. More than one Wild Reel can strike during any spin, combining a single spin into a monster-sized payout.
As well as the Wild Reels feature, players can also look forward to landing three or more 'scatter' symbols which will send the player into a free spins bonus round. Hit this feature and you'll get to choose from 'Electric Free Spins' or 'Neon Free Spins', each having their own potential for exciting and entertaining wins. If you select the Electric Free Spins option, you'll begin your bonus round with seven free spins and a randomly selected 'Power Wild' symbol on reels two, three, four and five. This then becomes a 'sticky' symbol and will remain in place until the very end of your bonus round. Manage to completely fill up a reel with Power Wild symbols and you'll be granted an additional three extra free spins!
Should you instead opt for the Neon Free Spins bonus option, you'll start with ten free spins and a 'Wild Wheel' feature that can pay up to a cool x55 win multiplier. When the Wild Wheel forms a win, you can't really go wrong as the minimum win multiplier is x11! The other possible multipliers (in addition to the top x55) are x22, x33 and x44. All41 Studios tell us that in the Neon Free Spins bonus round, the Wild Wheel will hit on average 50% of the time, making this a very tempting bonus to choose. Should you be fortunate enough to land another three scatter symbols during the free spins bonus round, you will be awarded an additional ten free spins!
Electric Avenue is an exciting game that's definitely worth checking out with some delicious-sounding bonus features capable of paying enormous wins whilst entertaining players at the same time.
Play Electric Avenue -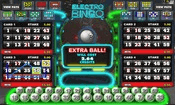 Electro Bingo is a fast-paced bingo game with lots of neon energy. Win by completing lines and patterns. After 30 balls are drawn (numbered 1-60), you are given the option to buy up to 10 extra balls to complete lines and patterns (the game will highlight the numbers you need).
Electro Bingo can award big payouts at reasonable stakes. Play one to four cards, costing 0.10 to 5.00 each in your currency. The maximum prize is 100,000.00 for a full house.
Play Electro Bingo -
European Blackjack Gold is a faithful, if basic, version of the classic card game. Played with two standard decks of cards (shuffled before every hand), European Blackjack Gold is a single-hand game. Features include split matching cards, (ie. AA), double down (on 9,10 or 11) and insurance (against dealer's blackjack).
If you're happy playing blackjack with just one hand then European Blackjack Gold will serve you well. Game options include auto-rebet and 'quick deal' to speed things up.
Play European Blackjack Gold -
Georgie Porgie... puddin' and pie, kissed the girls and made them cry. A horrid rhyme to match a horrid-looking slot by Microgaming. Georgie Porgie, part of the Rhyming Reels series, has five reels, 15 win-lines, a multiplying wild and a free spins bonus round. The ugly-as-feck Georgie Porgie logo is wild, forming wins and multipying them by x5.
Activate the free spins bonus round with three or more breath refreshers (vile Georgie has awful breath), awarding up to 25 free spins with wins multiplied x5. Extra free spins can be activated with every breath refresher spun in.
Play Georgie Porgie -
Germinator is a casual game by Microgaming with some icky but cute looking germs that sneeze and cough, which is quite sweet and entertaining. There's five strains of germ, each with different values. Form wins by matching three or more germs in a row, vertical or horizontal.
Matching germs will disappear, making way for more germs to drop in, hopefully forming more wins. Three or more 'capsule scatters' will activate the 'Medi Bonus', enabling you to remove a strain of germ, making up the biggest win.
Play Germinator -
Immortal Romance is a popular slot by Microgaming, similar to Thunderstruck II with the same bonus rounds, three rows, five reels and 243 win-lines. Released in 2011, Immortal Romance has a vampire/horror theme and cool soundtrack. The maximum payout is 72,900 in your own currency.
Immortal Romance stakes can range from 0.30 to 6.00 per spin. Three or more scatter symbols in any position will active the 'Chamber of Spins' bonus round, awarding between 10 to 25 free spins. A randomly-triggered 'Wild Desire' feature turns one or more reels completely wild.
Play Immortal Romance -
Poke The Guy is a quirky game which can be compared to a scratch card of sorts. Released by Microgaming in May 2018, the object of Poke The Guy is to shoot down the crazy 'guy' who is stomping round a city filled with famous landmarks. To shoot down 'The Guy' you need to select one of the wacky weapons on offer including a yellow rubber duck and a lethal piranha (the different weapons have different bet values). You click to randomly shoot your weapon from a type of catapult with no aiming or skill involved - if you manage to hit the guy you'll get a payout of either x2, x4, x12, x18, or x500 your stake.
Poke The Guy is certainly a very different casual game and quite interesting. We came across several lazy game review websites that didn't really give this game a proper test and so there are plenty of negative reviews but don't be offput by their laziness (some of them even claimed this game is no longer available at Microgaming casinos and have published completely incorrect information about the game - they're utterly wrong). Despite the negative publicity doing the rounds, Poke The Guy is worth a few shots and can generate some excellent payouts.
Play Poke The Guy -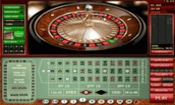 Premier Roulette by Microgaming is one of the better versions of online roulette. The game is equally well suited to beginners and pro's, with a clear layout and a good-sized 3D roulette wheel, always in view, making it easy to see where the ball lands.
Premier Roulette has two game modes - Regular and Expert. You can change game speed, repeat or double bets in both modes. Expert mode is even more accommodating, offering an auto-play facility and enabling you to save up to five chip layouts that you can edit at any time.
Play Premier Roulette -
Reel Splitter has been developed by Microgaming by Just For The Win and has a non-standard layout in that there are four reels in Reel Splitter, paying on 81-243 different ways with every spin. Expect classic slot game symbols and a free spins bonus round to strive for.
The reason behind the name Reel Splitter will become apparent when you score a win with four matching symbols - there is 'a chance' that the 'Reel Split Respin' bonus feature will kick into action, bringing with it a fifth reel (placed between the existing second and third reels) that should - luck holding out - leave you with a silly smile on your face once the feature is finished. Or a pissed-off look if the game is in a mean mood. Y'never know.
Play Reel Splitter -
Reel Talent is a perfect slot for gamers with a thing for talent shows. Developed by Just For The Win and published by Microgaming, Reel Talent is a fun, cartoon-style five reel slot with 20 win-lines and lots of entertaining features.
Reality TV lovers will adore Reel Talent's 'Television talent show'-theme. The multiple win-boosting game features include free spins, 'fire-breathing crocodile' wild symbols and a 'Superspin bonus' where all reels are filled with the same symbol, which can only mean enormous wins.
Play Reel Talent -
Rockabilly Wolves is a 'fast tempo, guitar howlin' slot game from the game designers at Just For The Win and distributed to participating Microgaming casinos. Rockabilly Wolves is a five reel slot with 20 win-lines, stacked wild/other symbols, 'sticky' wilds and a free spins feature that pays up to x6 wins.
As is common with many online slot games, spin in three or more 'free spins' symbols to activate the free spins bonus round. However, when playing Rockabilly Wolves, if you spin in only two 'free spin' symbols then you'll get a free 'second chance' re-spin to hit the bonus round. Once you're in the bonus game, you'll start with a sticky wild on the third reel and all wins will be doubled. Any wild symbols that land will become sticky and stay exactly where they are for the rest of your free spins - all at x2 payout. Every 'multiplier sticky wild' landed will increase the win multiplier up to x6 for potentially monster payouts.
Play Rockabilly Wolves -
Sidewinder is a Just For The Win-developed slot game exclusive to Microgaming-powered casinos, featuring a 3-5-5-5-3 reels layout that you've possibly seen on similar slots before. The reels allow 243 different ways to win on every spin but the 'sidewinder' feature increases the win-combinations even higher to 1125 ways to win, using reels filled with wild and free spins symbols. Fans of wild symbols (that's everyone, we reckon) should enjoy Sidewinder in general and especially the game's bonus free spins rounds activated by spinnings in three or more Sidewinder symbols where the 'sidewinder feature' is always active, meaning that wild symbols can expand to form 'expanding wilds'. It's also possible to win extra free spins during this bonus round.
Sidewinder is a modern-looking slot and a decent addition to any participating (Microgaming) casino. Bet ranges are flexible enough from 0.10 to 100.00 per spin.
Play Sidewinder -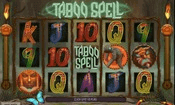 Taboo Spell is a voodoo-themed slot with five reels and 25 win-lines. Taboo Spell is a strange slot with a spooky soundtrack and freaky-looking symbols, including a scary Tiki mask and a seriously messed up voodoo doll that is cool for being a wild symbol but not cool for giving you nightmares.
Taboo spell has 'scatter' symbols and a randomly activated bonus game, awarding six free spins, which can pruduce decent wins as the Tiki Mask, Crocodile and Skull symbols transform into the highest paying symbol (witch doctor).
Play Taboo Spell -
Thunderstruck II is an old, classic but still popular online slot, based on hammer-wielding Thor and other gods/goddesses. Thunderstruck II is a 'Marmite' (or whatever you call it where you live - Our Mate, NZ-Mite) slot with many loyal players and just as many detractors! On a bad day, Thunderstruck II can hammer your bankroll but big wins are possible, especially during bonus rounds.
Thunderstruck II is a five reel slot with 243 win-lines. The blue TSII symbol is 'wild' and creates wins with a x2 multiplier. Three or more 'hammer' symbols puts you in The Hall of Spins bonus game, awarding between 10 to 25 free spins. A random 'Wild Storm' bonus will turn up to five complete reels wild - but is statistically far more likely to perform poorly, crushing your aspirations with one, maybe two (often far apart) reels becoming wild. We've often seen NO reels turn wild.
Play Thunderstruck II -
Tiki Vikings is another Microgaming's releases that has been designed by game developers Just For The Win, who has built a considerable catalogue of varied online casino games across hundreds of Microgaming casinos. Tiki Vikings has been described as a 'fun, humid yet frozen paradise' which we're not sure sounds good or bad. Probably bad.
The game itself is a standard-looking five reel, three row slot with 20 different win-lines per spin. There are plenty of bonus symbols and features that you will come across if you spend much time playing Tiki Vikings, including a 'a symbol upgrade meter' that will fill-up and upgrade the symbol values. Tiki Vikings looks fun and contains enough interaction to keep players entertained along the way.
Play Tiki Vikings -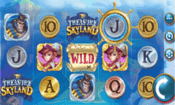 Treasure Skyland immerses players into a magical world, set in the clouds of a 'secret location' that contains floating islands and 'mighty views'. There are three monkeys who are on the hunt for treasure which comes in the appropriate (for monkeys, anyway) form of yellow gold bananas! In-game features include symbol upgrades (converting symbols to wilds), a 'pick a bonus' feature, win extends and a feature reel with x2/3/4 multipliers to increase your winnings.
Treasure Skyland has the standard slot layout of three rows and five reels with 20 win-lines. Wild symbols can land on the middle three reels (2, 3 and 4) to form additional wins and increase payouts. During EVERY spin there is a randomly moving 'feature frame' that can land on reels 2, 3 or 4 and if your win involves this feature frame then a feature reel will appear on the left-side of the screen and then stop randomly on a feature such as a win multiplier (up to x4), symbol-to-wild, symbol upgrade, win extend or pick a bonus, which is probably the most exciting and interesting of the lot.
The 'pick a bonus' feature in Treasure Skyland contains 15 items from which you can initially have five picks. Each pick will contain a prize such as an up to x5 win multiplier or an extra pick (in ADDITION to a prize). There is a 'prize map' with 15 steps with the final seven steps all awarding ADDITIONAL cash prizes. Every pick will move you one step up the prize map with your total win multiplier being a combination/collection of adding up ALL the multipliers won during your picked items so this feature has potential to result in some big wins.
Treasure Skyland is an interesting new slot available to play now at Grand Mondial (but see eligible/excluded countries below) and has a fixed, non-changing RTP (Return to Player) of 96.18%. Give it a whirl!
Play Treasure Skyland -
Wheel Of Wishes is an exciting progressive jackpot slot available for online players to take a shot at. This release by Microgaming was developed by Alchemy Gaming and is a revamped version of the classic Wowpot progressive slot released back in 2000. Players have the chance to win the Wowpot jackpot which starts at an increased £/$/€2m seed as well as the Mini, Minor and Major jackpot. Since it's launch on 11 February 2020 there's already been a Major jackpot winner of €131,574 which is included in a total payout of €1.2m across the four jackpots!
The Arabian nights/cave of wonders themed Wheel Of Wishes features high paying magic lamp and treasure chest symbols amongst others and there's plenty of regular and stacked wilds that won't go amiss. You won't be needing a Genie to grant wishes though - spin in 2 or more scatter symbols (coloured wheel symbol) to trigger a 'Power Spin' where reel 1 and 5 will fill with matching high paying symbols and the middle three turn into one large reel with giant symbols. You'll be hoping to match the middle to the outer reels or even better (hopefully) to spin in the Wheel Of Wishes Jackpot Bonus symbol which will take you to the jackpot game where you are guaranteed to win one of the four jackpots. For a increased stake, players can choose to activate the 'Power Mode' feature meaning that 'Power Spins' will be permanently activated, making it much more likely to get to spin the Jackpot Wheel.
Play Wheel Of Wishes -
Wonder Woods was developed by Just For The Win and published exclusively to Microgaming casinos. Released on 20 February 2020, Wonder Woods places the player into an enchanted forest where magical things happen. The forest/woods are packed with 'falling fruits, glowing trees' and is generally a trippy adventure into strangeness - so we like the sound of that!
Wonder Woods is a bright, colourful slot game with what Gaming Club describe as 'an entrancing soundtrack' (you decide!). In-game bonus features to hopefully hit include wild symbols, free spins, 'mystery' symbols and 'sticky' mystery symbols.
The layout for Wonder Woods is a slot-standard five reels and three rows with 20 different win-lines on every spin. It's a medium-variance slot (RTP 96.03%) so payouts should be regular enough for most players. It's possible to win x400 your stake in just one spin. Early reviews and player feedback has been generally mixed-to-positive with particular compliments paid to the background music soundtrack and 'pretty graphics' with LOTS of colour on show. If Wonder Woods appeals to you, give its weirdness and brightness a try. Stakes per spin range from just 0.10 up to 100.00 in your own currency.
Play Wonder Woods -
---
Microgaming company website: www.microgaming.co.uk
Wikipedia page: Microgaming @ Wikipedia